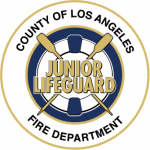 Junior Lifeguard Program
Open to children (ages 9 through 17), the mission of the Los Angeles County Fire Department's Junior Lifeguard Program is to educate ocean and beach safety, physical conditioning, basic first aid, and environmental awareness while developing the next generation of lifeguards and future leaders
2021 Junior Lifeguard Program is BACK!
It's on! We're back! Together again, just further apart.
The Junior Lifeguard Program is thrilled to announce that we have been approved to safely re-open the program for Summer 2021. We appreciate the Los Angeles County Board of Supervisors and Junior Lifeguard families for their patience and support during this process.
All returning Junior Lifeguards, or those who successfully completed the 2019 program and previously registered for Summer 2020, are eligible to participate in the Summer 2021 program and will not have to re-test. New Junior Lifeguard applications will be available through the website, starting Thursday, April 1, 2021. Please visit our FAQs below for details regarding prospective Junior Lifeguards.
Covid-19 safety protocols have been developed for the protection of our staff and participants and will be released soon. All information on this website is subject to change based on current Los Angeles County guidelines and protocols. We will do our best to update the website as often as possible.
At this time, the Junior Lifeguard Program will run in two, four-week sessions.
The 2021 Swim Test Dates are:
Friday, May 7 at Bay Club (Manhattan Beach Country Club) (3:00pm – 7:00pm)

Complete

Sunday, May 9 at the Maggie Gilbert Aquatic Center (Palisades) (8:00am – 12:00pm)

Complete
Tuesday, May 11 at the Brenda Villa Aquatic Center (Commerce) (3:00pm – 7:00pm)
Thursday, May 13 at the San Fernando Valley County Pool (3:00pm – 7:00pm)
Friday, May 14 at Bay Club (Manhattan Beach) (3:00pm – 7:00pm)
Saturday, May 15 at Mira Costa High School (Manhattan Beach) (8:00am – 4:00pm)
There are NO WALK-INS available for the swim test.  All applicants must have an appointment.
INTERESTED IN BECOMING A JUNIOR LIFEGUARD?
CONTACT THE JUNIOR LIFEGUARD OFFICE AT (310) 939-7214 OR EMAIL US!