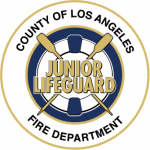 Junior Lifeguard Program
Open to all children (ages 9 through 17) in Los Angeles County, the Junior Lifeguard program is designed to instruct youth in beach and ocean skills, such as water safety, physical conditioning, first aid, rescue techniques, CPR and more.
2021 Junior Lifeguard Program Status
Due to COVID-19 guidelines set by the Department of Public Health, The Los Angeles County Fire Department Lifeguard Division's Junior Lifeguard Program is suspended indefinitely. The March 9, 2021 motion to safely resume the Junior Lifeguard Program is pending approval by the Los Angeles County Board of Supervisors in consultation with the Los Angeles County Department of Public Health and Office of Emergency Management. We appreciate your patience and continued support and look forward to seeing you on the sand. ~The Junior Lifeguard Office

If you have any questions, please contact our Recruitment Unit at (310) 939-7214 or email us at
fire-juniorlifeguards@fire.lacounty.gov.
Thank you for being part of the Los Angeles County Junior Lifeguard Program family. We're looking forward to seeing you back here at the beach.
INTERESTED IN BECOMING A JUNIOR LIFEGUARD
CONTACT THE LIFEGUARD RECRUITMENT UNIT AT (310) 939-7214 OR EMAIL US!
Frequently Asked Questions
(click the question to expand the answer)