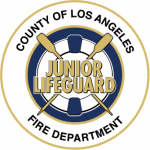 Junior Lifeguard Program
Open to children (ages 9 through 17), the mission of the Los Angeles County Fire Department's Junior Lifeguard Program is to educate ocean and beach safety, physical conditioning, basic first aid, and environmental awareness while developing the next generation of lifeguards and future leaders.
THE 2022 JUNIOR LIFEGUARD PROGRAM DATES HAVE BEEN ANNOUNCED!
Session 1: Wednesday, June 15 – Tuesday, July 12
Session 2: Wednesday, July 13 – Tuesday, August 9
INTERESTED IN BECOMING A JUNIOR LIFEGUARD?
CONTACT THE JUNIOR LIFEGUARD OFFICE AT (310) 939-7214 OR EMAIL US!
Frequently Asked Questions
(click the question to expand the answer)