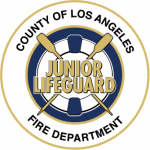 Junior Lifeguard Program
Open to all children (ages 9 through 17) in Los Angeles County, the Junior Lifeguard program is designed to instruct youth in beach and ocean skills, such as water safety, physical conditioning, first aid, rescue techniques, CPR and more.
2020 Junior Lifeguard Program Suspended
The safety and wellbeing of our youth is of utmost importance to us. At the direction of the Los Angeles County Fire Department and our partners at the Department of Public Health, the decision has been made to suspend the 2020 Junior Lifeguard Program.
If you have any questions, please contact our Recruitment Unit at (310) 939-7214 or email us at fire-juniorlifeguards@fire.lacounty.gov.
Thank you for being part of the Los Angeles County Junior Lifeguard Program family. We're looking forward to seeing you back here at the beach.
INTERESTED IN BECOMING A JUNIOR LIFEGUARD
CONTACT THE LIFEGUARD RECRUITMENT UNIT AT (310) 939-7214 OR EMAIL US!
Frequently Asked Questions
(click the question to expand the answer)