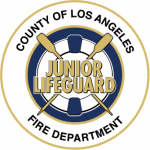 Junior Lifeguard Program
Open to children (ages 9 through 17), the mission of the Los Angeles County Junior Lifeguard Program is to educate youth in our community ages 9-17 in ocean and beach safety, physical conditioning, basic first-aid, and environmental awareness, while developing the next generation of future lifeguards and leaders.
THE 2023 JUNIOR LIFEGUARD PROGRAM DATES HAVE BEEN ANNOUNCED!
Session 1: Monday, June 19 – Friday, July 14
Session 2: Monday, July 17 – Friday, August 11
INTERESTED IN BECOMING A NEW JUNIOR LIFEGUARD?
Frequently Asked Questions
(click the question to expand the answer)