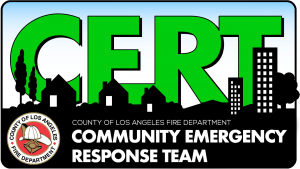 Community Emergency Response Team (CERT) Training
Following a major disaster, fire and rescue resources may be unable to immediately respond to all those in need. In such a crisis, it will be neighbors assisting neighbors until emergency response personnel can arrive.
Community Emergency Response Team (CERT) training provides residents with the skills and tools necessary to take care of themselves, their families, neighbors, and coworkers in the event of a disaster.
Teaching Kids Earthquake Safety
Shakey-Quakey Program
These trailer-mounted simulators are designed to look and feel like a schoolhouse inside, with real desks and a chalkboard. Each trailer is outfitted with nine child-sized seats, one adult seat and one wheelchair accessible seat. Once participants enter the trailer, they watch a short video featuring beloved Hanna-Barbera cartoon character Yogi Bear, who is voiced by actor Dan Akroyd.Yogi and his friends guide the kids through an exercise where they see, feel and react to the sensations of a virtual earthquake, including shaking, falling objects and sounds. Each segment is approximately three minutes in length. Afterwards, participants receive an official Yogi Bear earthquake preparedness booklet to take home and share with their families.
These simulators are available to schools, and community organizations throughout LA County. Reservations are done online form this website, see reservation calendar below. Please, select a date at least few weeks in advance, two hours block minimum, and complete the reservation form. Please note that kids under first grade age are not allowed. Thank you for contacting LA County Fire Department.
When designating an event location, note that the Simulator Vehicle dimensions are 45′ long 8′ high and 7′ wide. Please, make sure your event area can accommodate space for our truck.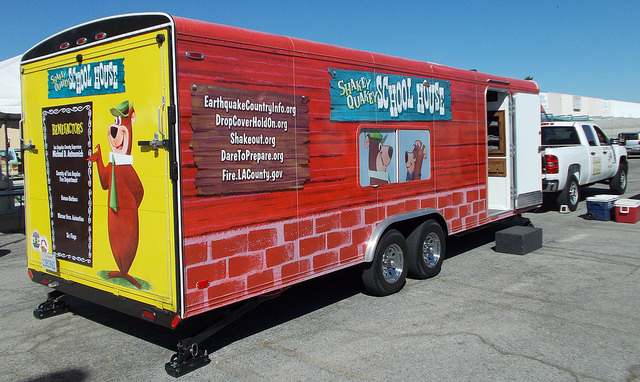 To reserve Shakey Quakey School House Earthquake Simulator for your public event please call