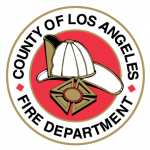 Women's Fire Prep Academy
The Los Angeles County Fire Department Women's Fire Prep Academy (WFPA) was developed in collaboration with the Los Angeles County Women's Fire League to expose adults 18 years and older to the duties and detailed responsibilities of the firefighter position and what to expect in the Los Angeles County Fire Department Recruit Academy.
Do You Have What It Takes?
Following a one-day assessment, consisting of a stamina and endurance assessment, 50 to 70 participants are selected to continue on for the next five Saturdays of training.  Through the WFPA, participants learn how to properly work out for physical fitness and participate in hands-on skills with tools and equipment, including how to work with extension ladders, rotary saws, and pulling and laying down hose.
At the end of the five weeks, participants graduate and walk away with a better sense of the fundamental responsibilities of what it means to be a firefighter and what it takes to join this noble profession.
For more information about the Women's Fire Prep Academy, contact our CORDI Section's Recruitment Unit at (310) 419-2115 or by clicking on the button below.