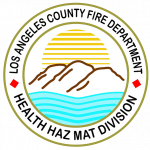 PROPOSITION 65 (Prop 65) Compliance Program
California Health & Safety Code, Chapter 6.5, Section 25180.7, requires any Designated Government Employee (DGE) who obtains information in the course of their official duties regarding an illegal or threatened illegal discharge of hazardous waste to report this within 72-hours to the Board of Supervisors and the Health Officer.
The Director of Health Services (DHS) designated the Health Hazardous Materials Division (HHMD) of the Los Angeles County Fire Department, as the repository for Prop 65 disclosure notification reports for the County Health Officer.  HHMD will investigate all disclosure notification reports to determine if the discharge meets the criteria and is reportable under Prop 65.
HHMD developed the following Prop 65 – Criteria for Reporting Discharges or Threaten Discharges for DGE's.
The discharge must be an illegal discharge or threatened illegal discharge of hazardous waste within the geographical area of your jurisdiction. The discharge may be either accidental, intentional and/or the result of negligence.
The reporter must have personal knowledge, that such discharge or threatened discharge is likely to cause substantial injury to the public's health or safety. This knowledge should be based on reasonable information of the actual or threatened discharge.
Discharge required or threatens to require evacuation of persons by an official agency.
Discharge contaminated domestic water supplies in levels exceeding State Drinking Water Action Levels (AL) or Maximum Contaminant Levels (MCL).
Discharge contaminated recreational waters in concentrations which pose a hazard by physical contact or bioaccumulation by organisms consumed by humans.
Discharge contaminated food or crops.
Discharge resulted in a fire likely to cause a public health or safety hazard.
THE FOLLOWING DISCHARGES SHOULD NOT BE REPORTED:
Discharges which are already public knowledge within the locality affected.
Discharges which are the subject of an ongoing criminal investigation which could be adversely affected by disclosure.
Discharges for which notification has already been made.
Discharges made in compliance with and under permit or approval of a regulatory agency.
Discharges which occurred prior to the effective date of January 1, 1987.
Please have the following information available when reporting an illegal or threatened illegal discharge of a hazardous waste:
Date and time of incident
Agency
DGE name who is reporting
DGE phone number and email
Incident location (Name and address of business if applicable
Type of locale (e.g., residential, commercial, industrial, open area, rural, etc.)
Brief description of what, where and how it happened
Responsible party and telephone number
Identification of discharged waste
Field data or lab results (indicate soil, groundwater, etc.)
Environment affected (e.g., roadway, groundwater, sewer, storm drain, lake, stream, river, ocean, air, soil, flood channel, paved ground, etc.)
Factors that are likely to cause substantial injury to the public health and safety
Number of injuries as result of the release, and the number of persons receiving medical treatment
Person or agency that the incident was referred to
PLEASE CLICK HERE TO SUBMIT THE PROP 65 NOTIFICATION.