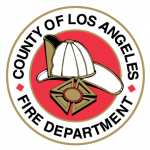 The County of Los Angeles Fire Code, Title 32, Section 5601.3 states that it is illegal to store, manufacture, sell, use, or handle ALL FORMS of fireworks without a valid permit in unincorporated areas of Los Angeles County.
The Los Angeles County Fire Department encourages families to attend a public fireworks show conducted by State-licensed pyrotechnicians.
All Fireworks Are Prohibited in Unincorporated Los Angeles County
The illegal use, storage, or handling of fireworks in unincorporated Los Angeles County is a violation of local and state laws and carries the following penalties:
Each year thousands of people, many of them children, are burned, blinded, and even disfigured by fireworks. In addition, fireworks cause fires that cost us millions of dollars in property loss.
Leave Fireworks to the Professionals
The sale and use of "Safe and Sane" fireworks in your community may be prohibited by local ordinance. If they are allowed, "Safe and Sane" fireworks can only be purchased from a State Fire Marshal licensed retail stand from noon on June 27 to noon on July 6.