By Fire Captain Terry Millsaps
The annual Los Angeles Marathon was held on Sunday, March 20, 2022, with nearly 15,000 runners, which is half of the typical pre-COVID entries.
Operating in Unified Command with multiple agencies, the Los Angeles County Fire Department (LACoFD) provided coverage for the marathon route through the City of West Hollywood with the help of Fire Stations 7 and 8, Strike Team 1109A, three Quick Response Vehicles (QRVs) and five Bike Teams.
Under the leadership of Battalion Chiefs Josh Binder, Khoi Dao (as ST1109A Leader), Leland Delaney and Greg Short, the event went smoothly throughout the City of West Hollywood. Bike Team 5, made up of Captains Richard Conejo and Michael Donnelly, were assigned to ride the entire 26.2-mile marathon route.
Thanks to the commitment of Bike Teams founder, Captain David Laub, and co-coordinator, Captain Richard Sherlock, the Department's Bike Team has grown to 48 members and has covered events at the Dignity Health Complex in Carson; SoFi Stadium in Inglewood, including Super Bowl LVI; and, recently, the Los Angeles Marathon.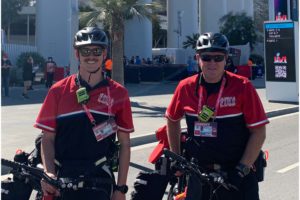 Members of the Bike Team complete a week-long training course that complies with standards of the International Police Mountain Bike Association (IPMBA).
By utilizing Bike Teams at special events, it allows a quick response through large crowds of people/traffic, allowing the paramedics/EMTs the ability to start assessing and treating patients more effectively and efficiently.
As the Bike Team continues to expand and grow, they will be utilized more at special events throughout Los Angeles County.